Fabulous Ways to Care for Your Floor
Having a hard time keeping up with your polyurethane finish floor? Fret no more, for there are a number of easy ways that you can start making use of when it comes to caring for hardwood floors that call for no more specialist equipment than a few common household cleaning tools: 
Daily DIY hardwood floor cleaning is considered a good way to care for your hardwood floor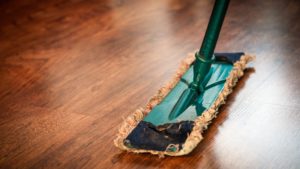 It will only take you a few minutes a day to sweep your hardwoods floors, and this simple act should be a cornerstone of your hardwood floor maintenance plan. A twice weekly damp mop will help as well, but never soak the floor, as that will do more harm than good. 
There are numerous ways to help minimize the wear and tear that your hardwood floor is subjected to regularly.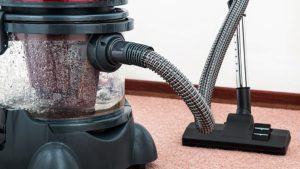 One of the best ways to maintain hardwood floors of any kind is to protect them from damage in the first place. With this in mind here are a few of the most important things to keep in mind:
Be mindful of spills. Although you may not realize it spills can seep through the wood more easily than you imagine, leaving behind staining that will be hard to remedy later on. In the case of most spills, a simple mop up with clean cloths and mild soapy water, followed by a careful blotting to dry the area, is all that's needed. 
Make use of area rugs in high traffic areas, but try to opt for natural backed rugs, as those with rubber backs often retain moisture drawn from the air and can actually damage your hardwood floor without you even realizing it. 
Consider implementing a 'no shoes rule'. Not only can the debris tracked in on outdoor footwear scratch and scrape at your hardwood floors but spiky high heels can do even more damage, as can dark soled sneakers. Place a mat near the front door, along with a rack for shoes and, if you are expecting special visitors you can even consider offering up dollar store flip flops for their use. But, if your hardwood floors are clean, barefoot entertaining should not be a problem anyway.
Regular cleaning tips for older hardwood floors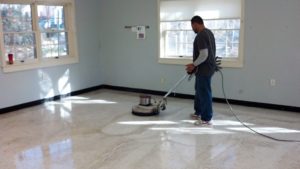 Purchasing a durable and high-quality broom can go a long way, as far as an older, often softer, hardwood floor is concerned. Sweep the floor surface at least twice a day – one in the afternoon and once at night. Sweep in one direction only using firm but gentle strokes and remove dust and debris with an old fashioned dustpan and brush, as vacuuming an older hardwood floor can result in scratches and scrapes, even if the appliance's instructions claim it is OK for hardwood floor use.  
Deep cleaning is not considered a last resort but an adjunct to your hardwood floor care guide.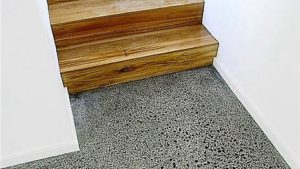 Professional hardwood floor cleaning is something that should be scheduled at least once a year. This is a set of techniques typically used to get rid of dirt and debris that gets hidden in between cracks and restore the wood to its 'former glory'. Experts use specially-formulated solutions to help condition the wood and get rid of the dirt underneath and if needed, can even sand and refinish a badly damaged floor to restore it's original beauty. 
If you want your hardwood floor to last as long as possible, you have to make sure you take care of it. Most of the techniques to do this are really simple and  they don't take too much of your time. In case you're having a hard time caring for your unique floor, or are battling specific problems,  you can always rely on C & L Flooring for all your hardwood floor cleaning needs. Aside from that, the experts in this company can even teach you how to take care of your hardwood floors if you need a little extra help.